KAWAI NOVUS NV10 digitale piano
KLEUR: zwart hoogglans
A brand new hybrid instrument that fuses Kawai's finest acoustic and digital achievements, to redefine the grand piano experience for players and audience members alike.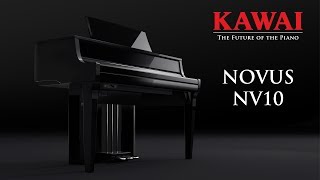 The Kawai Novus NV10 is the first digital piano to incorporate Kawai's finest Millennium III grand piano keyboard action, a real damper pedal mechanism, and premium audio technologies developed by Onkyo. NOVUS is the embodiment of Kawai's 'the future of the piano' company motto.
Bruto adviesprijs € 10.190,- / Kom langs voor de beste prijs!
« digitale home piano's overzicht